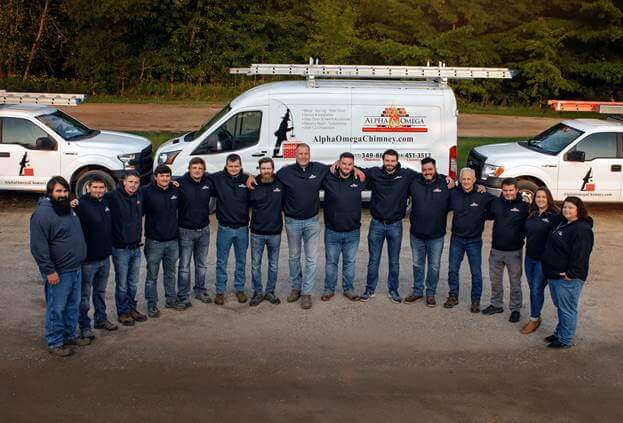 Fireplace Shop in Plymouth, MI
Alpha & Omega LLC specializes in the installation, servicing, and repairing of gas and wood-burning fireplaces and stoves, and masonry restoration. We also offer a wide range of chimney services, including sweeping, cement capping, water seals, liners and general inspections. Let us accent your home with a fireplace that looks great, functions flawlessly and meets the highest safety expectations.
Get Your Estimate Today!
Contact our fireplace shop and chimney sweeps today for one of the most competitively priced quotes in the market. We guarantee the best prices in the area.
Learn More
Get the Best in Fireplace Products & Services
The right installation in Plymouth, MI can completely transform a room. The glow from the embers, the heat it projects and the ambiance it provides are all huge benefits to homeowners. At Alpha & Omega LLC, our fireplace shop believes that every home should experience the positives of a fireplace! That's why we've committed ourselves to retailing only the best in fireplace and stove products, as well as accessories and supplies to keep them functioning safely and efficiently. Whether you're interested in the authenticity of a gas log fireplace or prefer a hassle-free electric insert, look to us to help you bring it home at a great price.
We do more than just sell top-of-the-line fireplace and stove products. Our expert chimney sweeps have more than three decades of experience installing, repairing, maintaining and otherwise servicing fireplaces in Plymouth, MI! From chimney cap installation and repair, to sweeping to remove creosote, to flue and damper repairs, let us put our expertise to work for you and the safety of your home. Our knowledge of all things involving your fireplace ensures you're able to enjoy yours for decades to come, without threats of danger or issues with operability. Let us be responsible for the warmth and comfort in your home—make us your complete fireplace products and services provider!
Bring Warmth into Your Home
If you're ready to accentuate your home with the beauty and warmth of a quality fireplace, our fireplace shop is ready to help.
Contact us today for a competitive quote on top-notch fireplace products and services.
Contact Us Today!
We're a local, owner-operated business that takes pride in delivering a higher caliber of service to our local-area customers. Count on us for a job well done, every time!
We're backed by more than 35 years of experience and expertise when it comes to fireplace products and always stay up-to-date on the latest trends.
All of the work we do is guaranteed. If, for any reason, you're not satisfied, we'll come back and do what it takes to ensure your satisfaction.
We're a licensed fireplace contractor and mechanical contractor, as well as residential fireplace builders.
Providing installations and chimney sweep services to residents in:
Brighton, MI
Charlotte, MI
Clinton County, MI
Corunna, MI
Dewitt, MI
East Lansing, MI
Eaton County, MI
Eaton Rapids, MI
Flushing, MI
Garden City, MI
Genesee County, MI
Grand Ledge, MI
Ingham County, MI
Jackson, MI
Lansing, MI
Livingston County, MI
Owosso, MI
Plymouth, MI
Shiawassee County, MI
St Johns, MI
Swartz Creek, MI
Williamston, MI
and the surrounding areas!